Attorney Bill De La Garza
Rated and Board Certified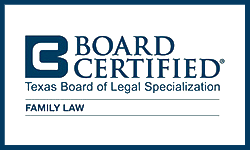 We Are

Experienced Texas Divorce Lawyers

We excel at resolving complex property division, including cases involving business valuations, tracing of assets or income, issues of separate property, and validity of prenuptial agreements. We are sought by professionals, executives, entrepreneurs, entertainers and other high earners, but we also represent the lesser-earning spouse and welcome men and women of all walks of life.
The strong emotions and waves of change associated with divorce can make it difficult to focus on the legal issues at hand or on your future financial picture. The Houston law firm of Bill De La Garza & Associates, P.C. offers shrewd insights and stands ready to fight for your best interests in this potentially turbulent phase of your life.
Bill De La Garza Provides

Sound Strategies and Honest Counsel
It's definitely better to have the legal team at Bill De La Garza & Associates, P.C. on your side if your divorce or custody case goes to court, however we don't fan those flames. Our philosophy is to empower clients, through careful divorce planning, to negotiate from a position of strength and to avoid unnecessary litigation.
Our attorneys will tell you what you need to know, not what you want to hear, so you can make informed decisions and control the outcome as much as possible.